On May 14, 2016, CCPC held its Bridge the Gap Breakfast Fundraiser. On a rainy morning out at the Wine Studies Center on the Chemeketa Eola campus, over 125 people turned out to hear about the exciting work being done at CCPC. Attendees heard reports on all of CCPC's programs, and were encouraged by the important work being done.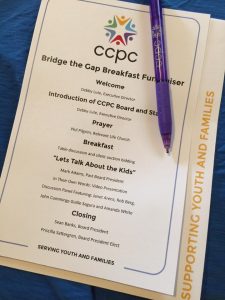 CCPC's Executive Director, Debby Lute, welcomed attendees and shared her heart for the organization. A representative from Salem's Relevant Life Church prayed for the agency before sharing in a continental breakfast. After breakfast, a short series of interviews provided perspective and appreciation for CCPC. Those interviewed were Janet Arenz (Oregon Alliance of Children's Programs), Rod Berg (Mid-Valley Youth for Christ), John Cummings (Oregon Youth Authority), Guille Segura (CCPC Proctor Parent), and Amanda White (Project 180 Program Coordinator).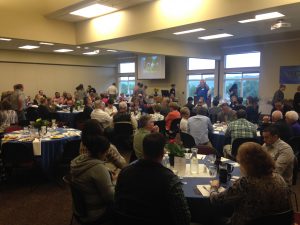 A silent auction was held throughout the morning, as attendees placed bids on gift baskets containing a variety of items from local vendors.
In all, the breakfast raised over $5000 for CCPC, and donations continue to come in. These generous donations will help to support the work being done by CCPC in providing essential services to Oregon neediest youth.
The event would not have been the success it was without the generous support of multiple groups and individuals. CCPC's Board of Directors helped organize the event, and many provided sponsorship as well.
Several local businesses also provided support as event sponsors:
RTR Services Incorporated
CD Redding Construction
Citizens Bank
Starbucks Coffee
Golsan Scruggs
And the following businesses donated items for the silent auction:
Oregon State University Athletics
University of Oregon Athletics
Enchanted Forest
Sweet Magnolia's Cupcakery
Xpress Lube of Salem
Happy Bee Garden Center
Expressions Hair & Nail Salon
Home Depot
Angie Porter, Jamberry Consultant
Linda Morris, Mary Kay Consultant
Starbucks Coffee
Madrona Hills Ace Hardware