"Life's most persistent and urgent question is, 'What are you doing for others?'" – Martin Luther King, Jr.
On January 18, 2016, a crew of students from Corban University came out to CCPC to work in our community garden. Every year on Martin Luther King Jr. Day, Corban cancels classes so that students and staff can heed King's call to serve others. For several years, CCPC has been a grateful recipient of these service groups from Corban.
This year, the group worked to prepare the garden area for re-landscaping and upcoming spring planting. The group from Corban was joined by the young men in CCPC's Project 180 program, and they worked hard together for over four hours. It is a joy to see CCPC youth working alongside staff and volunteer workers. Work done in CCPC's garden not only provides a positive experience for our youth, it also provides food to those in need, both through CCPC as well as through a local partnership with Marion-Polk Food Share.
If you are interested in finding out about ways you can volunteer at CCPC, please contact us.
For more information on Corban University's Martin Luther King Jr. Day of Service, click here.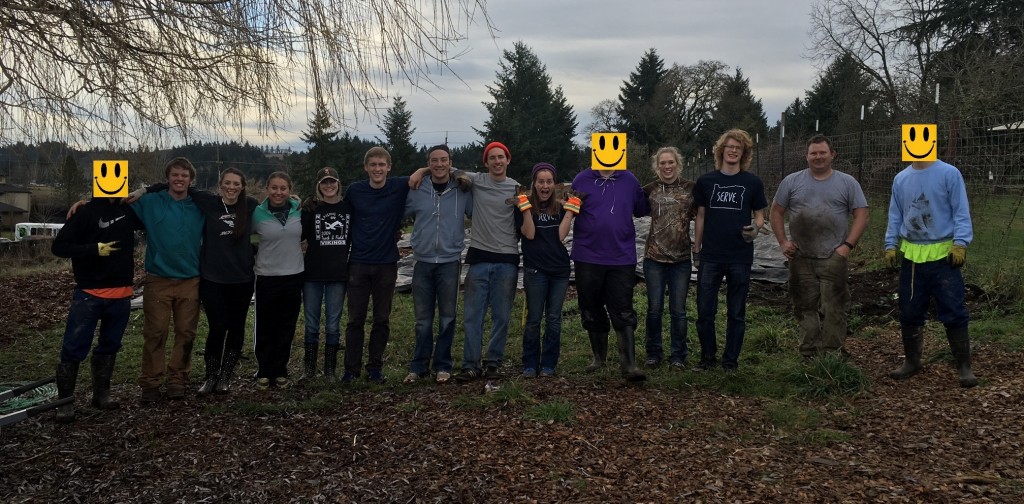 Monday's work crew, with Project 180 youth looking extra happy (Click photo to enlarge)